Can Appreciative Inquiry (AI) transform our Health? And that of a team or company staff group? The answer is YES. With AI it is possible to change whatever we propose.
And this is especially important at the present time, when organizations face the challenge of implementing policies aimed at improving the physical and emotional well-being of their people, especially after the pandemic.
A recent study by Observatorio Generación & Talento reveals the significant impact of the pandemic on the psychological health of workers.
The report highlights high levels of job-related uncertainty, anxiety and depression in younger participants, while Baby Boomers were those showing most anxiety and concern about the disease.
This study also shows that when the pandemic arrived, workers were already weighed down by baggage of health issues to improve, especially a deteriorated psychological state.
Appreciative Inquiry gives PRL  and Human Resources departments an opportunity to improve the health of their teams, working on well-being from a different, positive approach.
Appreciative Inquiry allows us to work on the health of a team, exploring its strengths, just as we do in any other project with goals linked to Culture and/or Business. It means that we change the topic. Instead of considering, for example, how to achieve customer loyalty, we can look into increasing the emotional well-being of the participants. With surprising results in terms of energy and motivation.
Two key premises of Appreciative Inquiry
Appreciative Inquiry is anchored in two key premises: The proposition that the seeds of change are found in the questions we put to ourselves and to others; and also, that the desired change is more likely to come about through questions that elicit what is working and who provides an example, rather than what is not and who is to blame.
Cooperrider's personal project, how he lost 15 kilos thanks to AI
Every year, we work with thousands of people in sessions – which we call Appreciative Inquiry "Summits" – generating collective action. But can it be used for individual change?
David Cooperrider, the father of Appreciative Inquiry, used it precisely in this way. After decades of using an approach to change he had pioneered with thousands of people, he decided to apply it to one of the toughest clients he could think of: himself. "I decided to take on, by appealing to AI principles, one of the most difficult change agendas I could think of: weight loss," he explained.
In six months he lost more than 15 kilos, reduced his cholesterol levels to half, and competed in his first Olympic triathlons with his daughter. Years later, the positive momentum hasn't diminished, he enjoys eating more, not less, and his energy levels are back to those of his college years. "Applying Appreciative Inquiry to weight loss transformed my life more than any other experience of intentional change."
"Applying Appreciative Inquiry to weight loss transformed my life more than any other experience of intentional change."
As with all Appreciative Inquiry, his process began by choosing the topic (defining). It is about identifying the questions that drive change towards the reality desired, towards weight loss.
Weight loss thus becomes an authentic journey based on strengths to be discovered, and not a problem to solve. The challenge, he tells us, is survival in a situation where you don't have the answers. The Inquiry simply takes us to the edge of the known, towards the unknown and it is the experience of the mystery that can change our lives: at times it's exciting, at times it's an overwhelming sense of vertigo, but it always involves moving away from certainty.
How do I reduce calories? How do I reduce my intake of sugar, fat, salt, preservatives and processed foods? Why don't my diets work? Obviously, these approaches to change are all deficit-based.
So what would be my topic for positive change, something personally compelling, exciting, and inspiring to me, and something transformative that I care enough about to leave no stone unturned? "For me, this pre-framing turned out to be crucial, and to be honest, it was a question: What would 'eating to improve' or 'eating to thrive' be like? Instead of living to eat, what would 'eating to live' mean?" wondered Cooperrider.
Once the topic was clear,he began to surround the change agenda with the discovery of strengths throughout the system. That means identifying all relevant internal and external stakeholders. "I started first by looking for people who had made significant health changes." Some of these led to other change stories.
"It wasn't long before I'd found about 300 people. The research on nutritional excellence was exciting and unfolded like a whodunnit. Surprises appeared at every turn, for example, our outdated ideas about proteins."
Thus he came to the conclusion that eating to improve does not require the willpower of self-denial. It doesn't require giving up any foods entirely, such as meat, dairy, or processed foods, but it does require an inversion of the 80-20 rule. Instead of the standard American diet where 80% or more of our calories come from nutrient-deficient foods, the required inversion means at least 80% of nutritional excellence, such as leafy green vegetables, fresh fruits, legumes and seeds.
Cooperrider explains in his story that simultaneously, in addition to all this, he asked himself questions such as: "When have I been healthier?
"With my new library of resources, new thought associations, and inspirations from those who had made lasting gains in their health by eating to thrive, my imagination wandered beyond the data. I allowed myself to dream: How do I see myself – my own images of the future – in terms of my desired weight, energy, health and eating to improve? Remembering that human systems move in the direction of what is asked. The inquiry and the change are simultaneous.
"How could I create an approach of 'eating to thrive' that would be easy and delicious and would allow me to enjoy nutritionally excellent foods that will lead to health, energy and wellness?"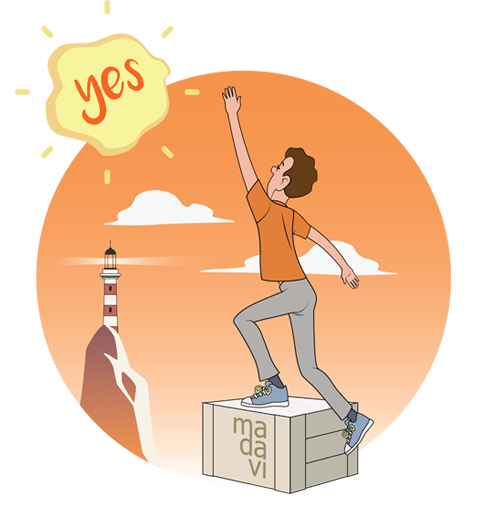 From the dream to the design
So the moment came to move from the dream to the design, creating a prototype, and he designed a six-week pilot.
Reading the world that surrounds us in search of inspiration and noticing the slightest sign of progress is especially important in the early stages of a positive change effort. "The list was long: my sleep was better, I was losing kilos, the exercise was getting easier and all of my health indicators were improving."
"Of course, my next step was to look for answers to the question 'why?' And that's when I learned even more about "super foods".
The key to all of this is that he was learning what worked for him, and not the problems that caused it.
The key to all of this is the fact that he was learning what worked for him. Next step: the inversion. Take the achievements and harness those resources to amplify the positive change. "I started to get creative with new questions: Could my new health indicators translate into lower spending on life insurance?"  The answer was yes, so he planned how to invest the money saved.
Cooperrider explains that he would never have thought that dieting could bring so much joy, confidence and satisfaction. He acknowledges that he also feels lucky, as if he had gained a completely different life. He also feels that he's more in tune with himself, with others and with the planet. "Maybe that's the difference between deficit-based change and positive change models. It's not about how big the mountain in front of you is, or how small. The question is: how does it make you feel, and does it ask you to do more?"
What is clear, and those who have tried it concur, is that once you use the Appreciative Inquiry approach, its energy and way of seeing the world transcends the professional sphere and changes the personal, transforming our perception of life
https://www.madavi.es/wp-content/uploads/2022/05/indagacion-apreciativa-post.jpg
500
1300
Iciar Sanz
https://www.madavi.es/wp-content/uploads/2015/01/MADAVI_logotipo_home.png
Iciar Sanz
2022-05-18 11:53:22
2022-06-13 12:08:05
Can Appreciative Inquiry improve our health? YES!